Going Back In
Take the PT Boat Up the River to the Monastery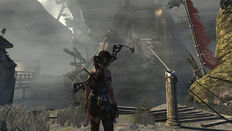 Hop onto the boat to take you back to the Mountain Pass. The boat will come to a stop and Lara climbs out.
Enter the Monastery
Fire a rope arrow at the craggy wall and use your rope bridge to make it across. Move through the tunnel to find Whitman, Mathias, and Sam.
NOTE: You cannot access the Mountain Village from here, as the entrance is blocked with a gate.
Shoot a rope arrow into the craggy wall across the chasm and climb across. Scale the wall and then, when you reach land, scramble up the wall to enter the monastery.